Ladies,
It's that time again when we start to freak out about Fall Pictures. Doing fall/autumn photos should be a fun and happy memory. I look back and most times I can only recall the moments of stress in the week leading up to the pictures and the crazy moments during when I'm trying to get my kids to actually smile at the same time (can anyone else relate???) Weeks later, I get the pictures in and I'm like what the heck?? When did they smile like that?? How did they capture that beautiful moment? Soooo, back to the point of my post, how do we make this experience easier for you?
I have come up with 4 different outfit ideas--- comprised of an AMAZING color palette and outfits that aren't one and done. The color palette for this year is GORGEOUS and no matter what color you choose, it's sure to picture beautifully! From beautiful jewel tones to rust, I am loving everything I have seen this season. Here's a look at the outfits I will be covering.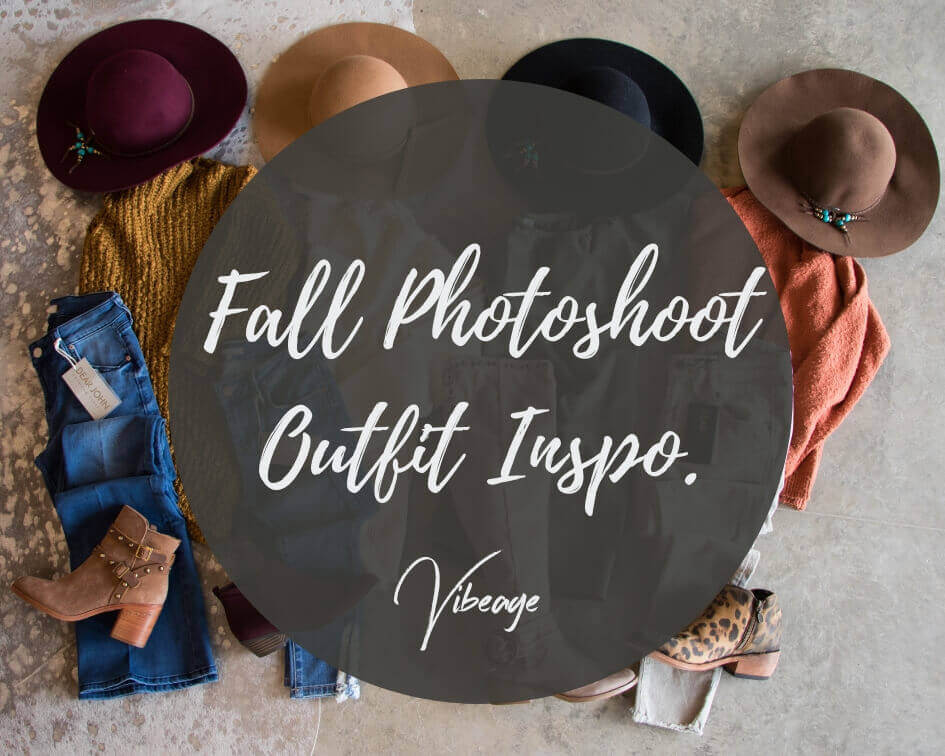 A good sweater to wear through the fall and winter is a MUST. Most photoshoots are done in the evening when it gets cooler making a warm sweater perfect choice! I can dig on some chunky sweaters with denim, so it's no surprise that 3 out of the 4 looks are styled with a sweater and only one dress. I chose each piece for this shoot keeping comfort and versatility in mind.
I am a HUGE fan of a good chunky sweater with a slouchy fit. That being said, it's no surprise that I am IN LOVE with this top and all of the colors in comes in. All of them are rich autumn/fall colors that are easy to match or build your shoot around. I am especially fond of the mustard.This sweater features a popcorn like detail, heavy knit, and an oversize fit making it the perfect top for every day and for your pictures. We have it in 5 different colors,if the mustard just isn't the right color for you. I paired it with a fun pair of bells to add more personality. I completed the look with a heeled bootie with some stud and buckle details for a little more edge. I also added a felt hat in camel and some statement earrings to add a special touch to the outfit. ||Top||Jeans||Booties||Hat||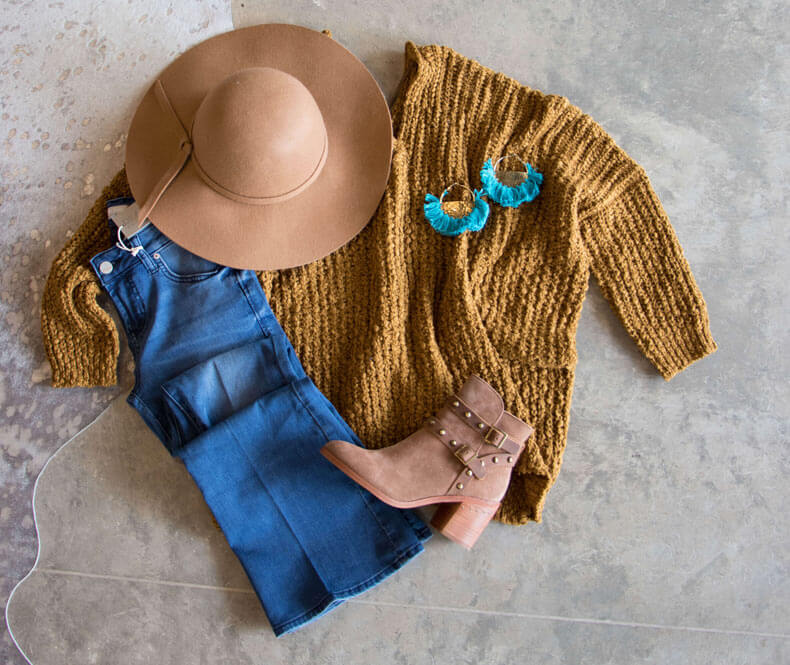 Say yes to all the pearls in the world! The creamy natural color of this sophisticated sweater makes it an easy piece to match. The classic pearls will add a feminine touch to this edgy sweater with it's faux neckline. Don't pump the brakes, the cutout does not make it low cut. You can add a cute bandeau or bralette, if you are worried.. I styled it with a clean pair of denim with a little bit of distressing to the ankle to add a little spice to the outfit. These are a midrise denim that comfortably hug your curves but allow you to lift and carry the little ones or hug your pets during your shoot and in real life. I have added a pair of burgundy booties to bring a bit of color to the outfit and continued the color pop with a burgundy hat.I feel like hats are the biggest overlooked accessory and they add so much personality to ANY outfit. I did not add any jewelry as the details on the top are enough. .||Top||Jeans||Hat||Booties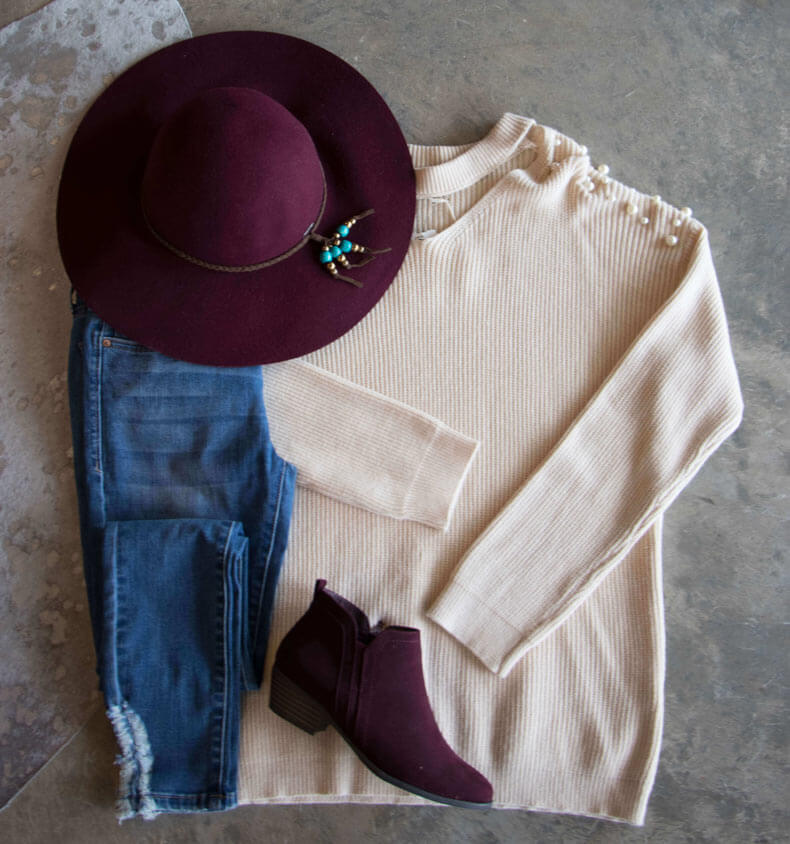 I know there are many ladies that would rather wear a dress than denim so here is an amazing dress option. Suede is perfect fall material and styled with our tall boots, you cannot go wrong. The suede is extremely soft and the beautiful olive color compliments any skin tone. The ruffle detail gives you the option to wear this dress either on or off of the shoulder. The length is also perfect and age appropriate. Again, I added a hat for color contrast and a beaded necklace that pulls the look together ||Dress ||Boots||Hat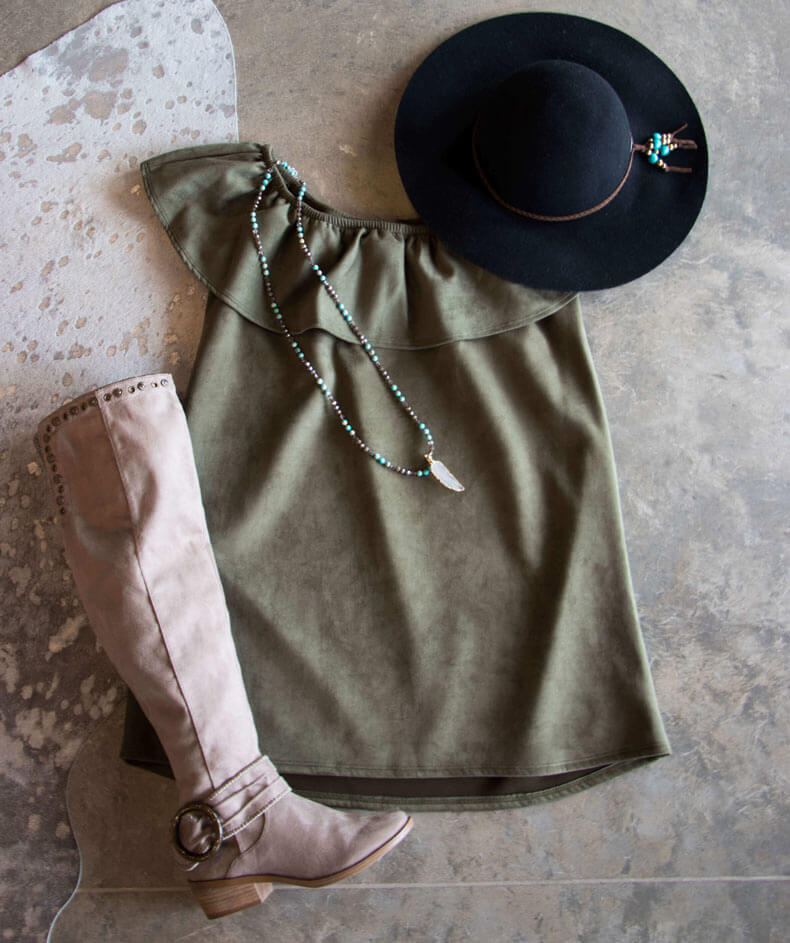 My final look is a boatneck sweater that is made of the softest popcorn detail material ever. The beautiful colors that make up this outfit scream all things fall. From the pumpkin spice colored top to the creamy corduroy bottoms, you will LOVE this outfit for every day or your photoshoot. I added a dainty necklace with a turquoise slab to tie in beads on the floppy hat. For a hint of sass, I added these neutral colored cheetah booties. Leopard is a neutral, if you haven't already heard. ||Top||Jeans||Hat||Booties
So, don't stress about your next shoot because it should be fun and easy! Remember that sometimes simple is best and you can add accessories to your look for color pops and prints like I did in these outfits!!!!
If you need help finding your next outfit for your photoshoot, shop the website, call us, message us, or come see us in store. We would LOVE to help outfit you with no stress!
See ya soon!!!
XOXO,
Ruby