How to find jeans that fit is at the front of all of our minds, anytime we shop. It's an age-old question! Jeans are such a classic piece of apparel that have seen dramatic changes and a design evolution over the past several decades. They still manage to represent the best of classic casual style and likely always will.
You can wear them just about any way you like! From cropped to distressed, boot cut to super skinny, there's certainly a pair of jeans for everyone.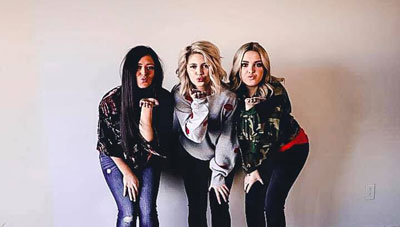 Whether you're itching to try a new denim cut or want some inspiration to find your best fit without hitting up tons of fitting rooms at the mall, we've got you covered! Discover some of our favorite tips for how to find the best fitting jeans and simple advice for buying, wearing, and styling jeans in Vibeage's ultimate jeans style guide.
Ankle-Grazing Perfection
Skinny jeans have been trendy for some time now, but recently, we have been all about trying new variations of these flattering favorites. It can be tricky figuring out how to find jeans that fit when you're trying a completely new style, but a slight modification to a design you already love is a great way to experiment without going too far out of your comfort zone. Look for unique details like subtle distressing or frayed hems to create an even more fashion-forward look that's fun to style.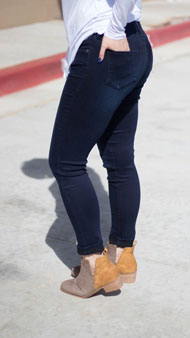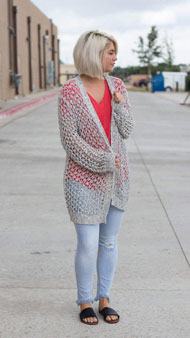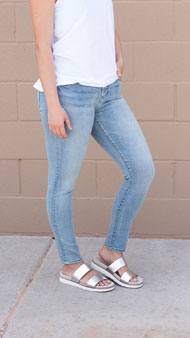 That's why we are loving ankle length skinny jeans as a sweet alternative to more classic skinnies. Figuring out how to find the best fitting jeans at ankle length is very similar to perfecting the fit of your traditional skinny jeans. You will want these jeans to naturally hit at your mid to lower ankle area to allow you to be able to wear a variety of shoes. We like adding slight cuffs to this style when sporting sandals and flats, or if you're petite, ankle jeans are perfect for styling with your favorite booties.
These styles are terrific for any body type and a staple of our jeans style guide — just remember that in order to ensure you know how to find the best fitting jeans, opt for styles that are fitted through your thighs and calves for the most flattering fit and feel free to mix up your preferred waist fit, whether it be high or low rise.
Get Playful with Cute Flares
Trying out a flashier and retro-inspired look with flares is a fun way to experiment with style. Discovering how to find jeans that fit in this realm can be a little trickier, so don't worry if the first pair or two you look at isn't the ideal match.
Choosing a style of flare that flatters will vary by body type, but a general recommendation we make is to choose a mid-rise style if you haven't worn flared denim before. Then, play with the proportions to learn how to find the best fitting jeans for you. For example, consider a less dramatic flare from calf to ankle if you have shorter legs or think about a darker wash if you prefer a style that appears more slimming. If you want a transition style before you try a more dramatically flared style, consider bootcut jeans! These offer a similar, yet slightly more subtle silhouette that are, as the name implies, perfect complements to all of your favorite boots.
Our jeans style guide suggests pairing your flares or bootcut beauties with a loose-fitting top for a bohemian-inspired look with some flair, and add a pair of flat or heeled booties to complete your look!
Get Colorful
Keeping a variety of different colored pants on standby to vary your everyday looks is a great idea. Finding the best fitting jeans for you depends on how you like to sport color! Think about how to pair your stylish pants with items in your wardrobe, as well as ensure they fit perfectly. Oftentimes, lighter-colored jeans will look unflattering if they don't flatter your silhouette while figuring out how to find jeans that fit in darker colors means they need to be balanced out with the rest of your ensemble.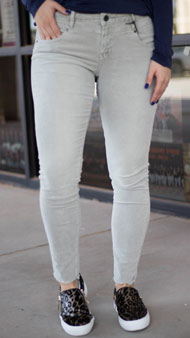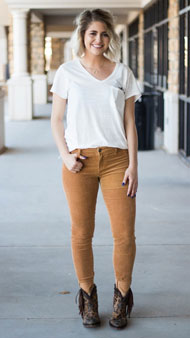 Skinny jean styles are our go-to's when it comes to experimenting with different shades, whether they be black, grey, berry, or terracotta. Our jeans style guide suggests matching your colorful jeans with various tops like simple tees, fitted sweaters, long cardigans, and more, to achieve a well-styled look for everyday and beyond that's both comfortable and chic. High-waisted colorful jeans or jeggings look adorable with seamless crop tops or cropped moto jackets, while ankle-length pairs look oh-so-cute with casual slip-ons and a cute belt!
It's simple to figure out how to find the best fitting jeans once you have a grasp on which styles flatter your body and make you feel fabulous. Complete your stunning denim outfits with essentials like must-have tops and the trendiest footwear. No matter your sense of style, be sure to rock your favorite denim with confidence!