Whether you're counting down the days until you're basking in the warm sun or gearing up for a snow-covered mountain paradise, Vibeage Boutique has everything you need to complete cute spring break outfits. It's easy to fall into the trap of overpacking or overlooking specific pieces of apparel that can make or break your vacation, so be sure to consider all of the elements and everything that's on your itinerary as you start getting your suitcase ready!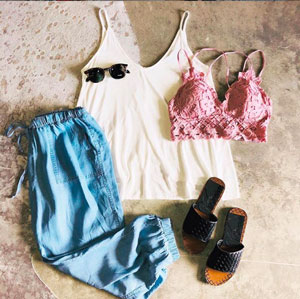 No matter what destination is, we know you'll want your spring break packing list wardrobe to express your personality and style in a way that you will be proud to share on your Instagram and with friends and family. We recommend packing easy-to-wear styles that are flattering and perfect for layering, as well as expressive enough to help you feel like you, wherever you are.
Beach-Ready Babe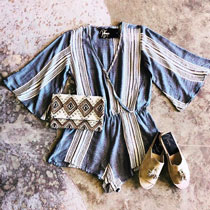 We love escaping our everyday surroundings and heading beachside any time of the year, but the high energy and exciting atmosphere of a tropical spring break vacation is extra special. Plus, there are so many options for cute spring break outfits that allow you to sunbathe in style before partying the night away!
In addition to your favorite bathing suits, be sure to add some more fun style to your spring break packing lists with amazing maxi, wrap and tunic dresses that can double as cover-ups as you embark on daily adventures. We also love cute, flowy rompers into our favorite beach looks for effortless style.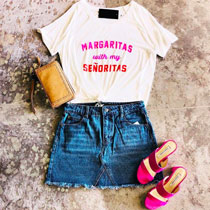 For a more casual and classic look, a pair of cute denim shorts will look absolutely perfect with everything else you pack — from your pool-ready bikini tops to an essential tank top or trendy graphic tee. These bottoms are a total spring break packing list must-have for every warm-weather destination! For a more modern take on your average pair of denim cutoffs, opt for a style with some unique details like distressing, frayed hemlines, fringe, or a sun-washed finish.
When it comes to your nighttime looks, whether you're headed to a club or out to dinner with your squad, be sure to pack some dressier cute spring break outfits that are lightweight and beautiful! From dresses that don't wrinkle paired with a pair of cute wedges, heels, or colorful slides, is the perfect way to incorporate pretty footwear into your vacation wardrobe.
In fact, many of your everyday outfits can double as nighttime stunners when you add the right accessories to your spring break packing list. A canvas or straw bag is the ideal vessel to hold all of your essentials, while a statement necklace or some tassel earrings are will amp up your style factor in an instant and will look amazing with your favorite dress as you dine and dance the night away!
Chic Snow Bunny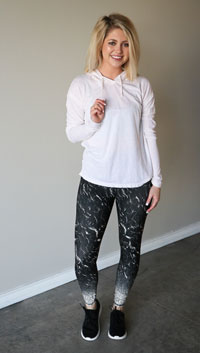 If your idea of the perfect spring break involves snow-peaked mountains, hot tubs, and soaking in every moment in the great outdoors, you'll need to choose separates that are ideal for layering. Whether you're headed to Aspen or Breckenridge, Jacksonville or Vail, the right apparel can make or break how enjoyable your vacation will be. Winter wear can always make cute spring break outfits and take you from day to night seamlessly!
If you plan to hit the slopes with your skis or snowboard, consider starting with comfortable and stretchy pieces at the top of your spring break packing list. Cute athleisure essentials like leggings are are a must for layering under your snow pants. Opt for unique styles that look adorable and brighten gray days, like ombre, splatter prints, or color-blocking.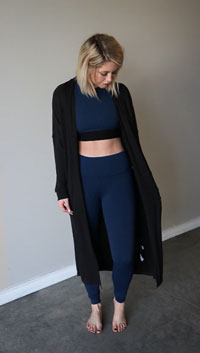 Pack versatile tops that have moisture-wicking properties or layer well with your snow jacket. Lightweight hoodies that allow for plenty of movement and comfortable bralettes are lovely to add to your spring break packing list as you plan to move from the cozy indoors to the cold outdoors. We also love transforming our athletic outfits into cozy loungewear with a long duster to wrap ourselves in.
Round out your cute spring break outfits with the coziest sweaters, perfect for lounging fireside in the evenings and going out to dinner with friends. Oversized sweaters are a sweet, casual way to elevate your favorite leggings or skinny jeans. Don't forget to add some personality with fabulous footwear. Lately, we're loving the laid back feel of slouchy booties. They're a total must-have on our spring break packing list!
Big City Explorer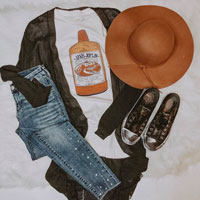 Whether you're wandering the streets of Rome or NYC, taking in the culture of an exciting new city is an amazing way to delight yourself. We love the idea of discovering the city's best eateries, finding the most Instagrammable backdrops, and mingling with locals!
You'll want some reliable and well-made walking shoes! Make sure you break in your trusted soles before you start your big city adventure. From modern running sneakers to chic slip-ons, there are tons of ways to make your outfit city-ready. A comfortable pair of cute booties is also a must for your spring break packing list if you want to dress up your denim or have another option for your nighttime escapades.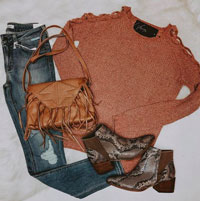 Tops that allow you to express your amazing personality while offering you the freedom to layer, are essential. We love the carefree look of boyfriend-style slouchy tops and boho-inspired prints in our city style
Regardless of where you're headed, we've got everything you need to help you prepare! Before hitting the road, definitely look up your destination's weather forecast so that your spring break outfits are perfect for whatever life brings you.
And don't forget to snap a shot of your favorite spot when you travel, sporting your latest Vibeage finds, and tag us on social so we can share the love!
Safe travels, ladies!